Your Child Will Have A Blast At Our Spring Break Camp!
Our Kick'n Karate Camp provides the community of Delray Beach with the perfect opportunity to make the most of Spring Break! Students will enjoy a week full of exciting activities and will walk away with important skills and life-lessons.
Reserve your spot now! Click Here to get started!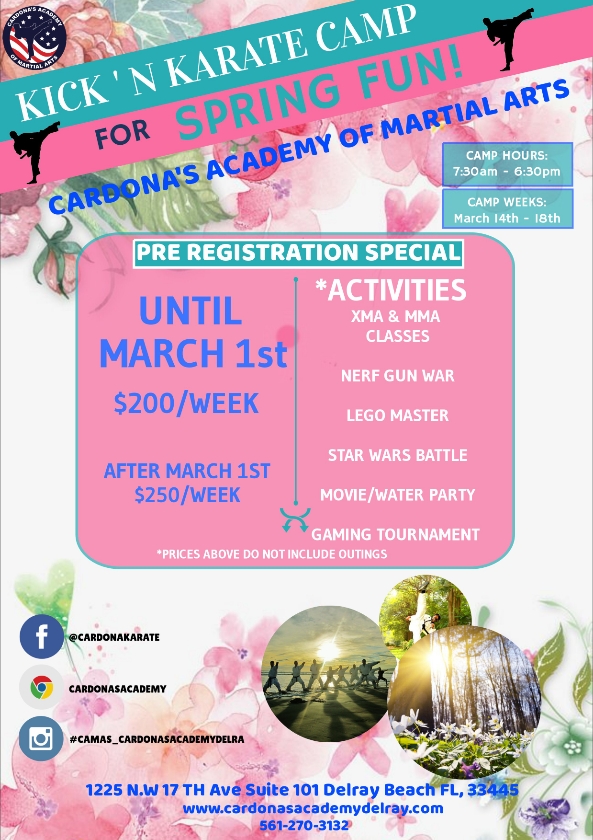 Treat Your Child To The Best Spring Break Ever!
Instead of spending the entire week playing video games or watching TV, give them a week they'll remember for years to come! With a variety of outings and activities in store, every child is guaranteed to have a fantastic time.
The best part is, your child doesn't need to have any experience with Martial Arts. Everyone is welcome at Cardonas!
Our Spring Break Camp includes:
Indoor and outdoor activities
Team-building games
Martial arts lessons
Daily trips and outings
and so much more!
Spring Break Is Right Around The Corner! Are You Ready?

Don't let Spring Break sneak up on you. Sign your child up for camp at Cardonas Academy of Martial Arts today! Just click the button below to register!
Register Today!